The P&C insurance sector is enormous, and it keeps growing larger every year. To illustrate, the sector wrote nearly $640 billion in net premiums in 2019—accounting for nearly half of all insurance industry premiums written across the United States.
If you're a small agency trying to compete against industry juggernauts for P&C insurance sales, it may seem like an insurmountable task from the outset. These bigger organizations have more resources than you, a wider reach, and more employees. And many of them are also household names.
Despite these advantages, here's what the big companies don't have: the ability to treat their clients like individuals instead of account numbers.
The good news is that it's not only possible to compete against the bigger companies, but you can also actually win. To do that, you might just need to change up your approach.
How to Compete with National Providers for P&C Insurance Sales
Although large insurance companies might have bigger names, more brand recognition, and more resources, their sheer size and scope can often hold them back. With so many moving pieces and operations in so many different markets, it can be difficult—if not altogether impossible—to meet clients' expectations around personalization.
By transforming your agency into a customer-centric organization that truly puts clients' needs first, you can achieve better business outcomes. Here are four ways to do that.
1. Personalize your outreach in every interaction
In the age of mobile devices and smartphones, it comes as no surprise that consumers today increasingly expect personalized experiences.
But what you might not know is that those expectations are alive and well in the world of insurance sales, too. In fact, one study found that 80 percent of consumers are interested in receiving personalized recommendations from insurance agents.
Although large insurance companies are definitely trying to capitalize on the trend of personalized outreach, they tend to struggle with following through with that outreach on a consistent basis. This leads to a disjointed customer experience, leaving their clients yearning for more.
If you're like most agencies, you might be wondering how you can possibly find the time to cater to each client on a personalized basis. And that leads us to our next point.
2. Invest in technology that enables you to move faster
Chances are that your insurance agency is already using software. You communicate over email, you message your teammates, and you use accounting tools to track your finances.
This is a good start. But if you really want to compete against the big guys, you need to figure out how to work faster and more efficiently.
If you invest in purpose-built health insurance agency software, each agent can get considerably more done in less time while serving up personalized and consistent experiences on a regular basis.
To give you a better idea of how P&C insurance agency software can transform your operation, let's take a brief look at three powerful solutions for businesses like yours.
Lead management and distribution
Your sales team, no doubt, understands how important it is to generate more leads. Unfortunately, many P&C insurance agencies don't follow up with the bulk of their qualified leads.
In large part, this is due to a confluence of factors. On one hand, there are only so many hours in the day. On the other, many agents lack access to insurance agency software that makes lead management and distribution easy.
With the right solution in place, you can make sure that the right leads are sent to the best available agents every time. And the best part is that you can use automation to ensure this happens without any manual intervention.
All of a sudden, all of the obstacles that used to prevent agents from engaging every lead are removed from the equation. All leads are automatically given to the best person for the job, and the technology ensures that agents always have insight into the real-time status of every lead.
Email marketing automation
If you're unfamiliar with email marketing automation, you might be wondering how you're going to send personalized emails to all of your leads and clients. Who has the time to type that many messages?
With a robust email marketing automation solution in place, you can automatically personalize each message—without even thinking about it. By creating email templates and lead-specific criteria, your email marketing automation platform will send personalized emails to your clients and prospects on your behalf.
What kinds of templates can you use? Well, take a step back and think about your most routine sales conversations. Maybe a client is buying a new house, maybe an auto policy is up for renewal, or maybe a client's birthday is coming up. Whatever the case may be, you can reverse engineer your most common outreach messages and create email templates that address them. The technology will do the rest for you (e.g., by automatically addressing each contact by their first name).
CRM
Email marketing automation is a cinch when you have a powerful customer relationship management (CRM) solution in place. Essentially, CRM systems enable you to store all of the relevant information about each client and lead in one place—including their names, birthdays, occupations, family information, renewal dates, hobbies, pets' names, and more.
When you're armed with this information, it's easy to personalize every interaction. When someone calls you, simply open their record, and voila—everything you need is right at your fingertips.
What's more, you can also use a CRM to customize product configurations based on history, preferences, and other factors (e.g., driving record).
Your agency already has a comprehensive list of clients. Because it's cheaper to sell to existing clients than to acquire new ones, you can use your CRM to identify cross-selling and upselling opportunities.
For example, if someone is buying homeowner's insurance from you, you can ask them whether they're satisfied with their current auto policy and let them know that you might be able to offer something better. It's an easy way to get your current clients to buy more products.
3. Launch a referral program for your agency
Research suggests that nearly 93 percent of consumers believe that word-of-mouth recommendations are the most persuasive form of advertising.
Capitalize on this fact by launching a referral program for your agency. For example, you might offer your existing clients a discount or a reward for successfully sending business your way. When done correctly, it's a low-cost way to grow your business. And as your new clients come to love your business, too, those gains can compound.
4. Prioritize content marketing and engage audiences online
The most successful insurance agencies position themselves as trusted advisors. That way, whenever clients have insurance needs, they don't even think about looking to solve them anywhere else.

One way your agency can become a strategic partner is by investing in content marketing and producing content that educates, entertains, and engages audiences online. By doing so, you're proving your commitment to your clients' success outside the scope of what clients expect from traditional insurance companies.

For example, agents are

increasingly using LinkedIn

to drive P&C insurance sales. And by writing helpful blog posts and sharing them through social media, you can also increase your organic search rankings to increase the chances that someone finds you when they have insurance needs.
Are You Ready to Compete Against the Big P&C Insurers?
If your agency is looking to drive P&C insurance sales, you need to differentiate yourself from the biggest names in the industry. And that starts with delivering consistent and personal communication across each touchpoint and in every interaction.
By making smart investments in technology and implementing an effective growth strategy, your agency can deliver more value, proving to clients that you're the solution to their needs.
Ready to take the next step? Request a demo of AgentCubed today to learn more about how to effectively compete against the big guys and supercharge your P&C insurance sales efforts.
---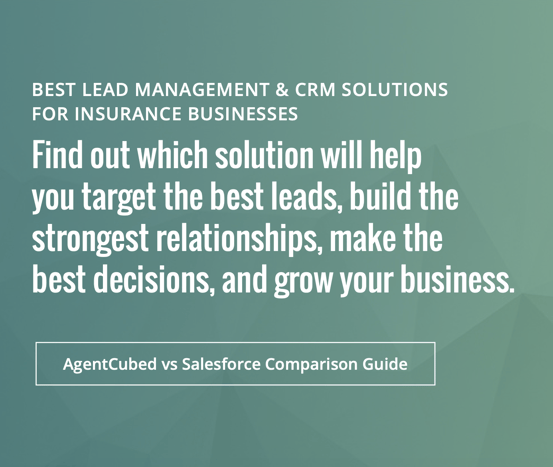 ---