The more leads you have, the bigger the pool of potential customers you have to draw from. Despite this, the vast majority of qualified leads are never followed up with.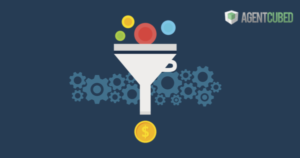 Why?
Each day, sales managers have a fixed amount of time to take care of their job responsibilities. When sales managers are expected to balance the demands of a busy sales team and distribute leads manually, there's a high likelihood that at least some of those leads will disappear to the ether. In fact, a recent study showed about 30 percent of leads aren't followed up with at all!
For your agency, that means closing fewer deals—and generating less revenue.
The good news is that a number of innovative software solutions exist to solve this problem. Lead distribution software, for example, automates the lead distribution process. For your insurance agency, this means that agents will have access to qualified leads without a manager having to manually distribute the lead. In fact, research shows that 80 percent of companies increase leads with automation, and 77 percent increase conversions.
How Lead Distribution Software Improves Sales Processes
From increasing efficiency and prioritizing qualified leads, lead distribution software has the power to transform your agency's sales processes.
Here are three key features that your sales managers and agents will love.
1. Automation
Lead distribution software automatically sends leads to the right agents based on the criteria you define.
This means that all the things that traditionally kept managers from distributing leads—such as meetings, personnel issues, lack of performance data, and off-site appointments—are no longer roadblocks.
Since an automated system gives salespeople leads faster, it also makes managing leads easier. Agents can reach out to qualified prospects right away—beating their competition to the punch.
Automation removes human error from the equation. Every manual task exposes itself to potential mistakes and delays. On one hand, a manager might forget to send a lead right away because something else popped up. In other cases, they might send a lead to an agent who's not an ideal match.
Automation gives agencies the peace of mind that comes with knowing the best agents are getting the right leads as quickly as possible.
There are also automated reminders and notifications to consider. Instead of leaving follow-ups to chance, the right software solution will automatically remind agents when to reach out to a prospect again. Since it takes six or seven contacts before the average prospect converts its crucial to have automated workflows focused on lead follow-up.
Add it all up, and it comes as no surprise that automation increases sales productivity by 14.5 percent.
2. Analytics
Today's strongest lead distribution solutions have built-in analytics features that help teams determine which strategies are working and which ones need to be revised.
With the right platform in place, your agency will know where your best leads come from, how many leads convert to enrollments, how many interactions it takes to close the average sale, and your cost per lead and cost per sale, among other critical data.
When shopping for lead distribution software, look for a solution that tracks the status of each lead and follows the lead through the sales cycle. Since 68 percent of sales professionals agree that having a single view of a customer is critical to their success, this feature cannot be overlooked.
As an added bonus, it'll also help you identify where any bottlenecks in your sales processes might be.
3. Accessibility
In the age of mobility, it's more important than ever that your agents have access to the data they need to succeed wherever they happen to be.
Lead distribution software should enable data to be accessible by any authorized user from any device. This ensures that your agents have up-to-date information they can use to strengthen their pitches and inform the sales process.
The right solution will also make it easier to answer any questions a prospect might have—enhancing the customer experience and increasing the chances of conversion.
Supercharge Your Sales Engine with Lead Distribution Software
Change can be difficult to enact for any organization. But if you're still manually distributing leads to your agents, you're almost certainly missing out on opportunities. And even if you're not, you can't move as quickly as your more modern competitors.
By investing in new technology, sales managers can reclaim time that can then be invested in other growth opportunities. And your agents will have more immediate access to qualified leads, which sets them up for success.
There's no sense in making the sales process any more difficult than it needs to be. Thanks to lead distribution software, your insurance agency can move faster, improve lead-to-sale conversion rates, and increase employee engagement—strengthening your bottom line along the way.