As more Baby Boomers reach age 65, insurance agencies are exploring their options to better serve a growing senior market. When looking for profitable ways to expand, the Medicare market is prime for growing insurance agencies to capitalize on a massive generation of Medicare prospects. As your agency ramps up for the next OEP (Open Enrollment Period), consider the following points to continue training and educating your Medicare insurance agents to effectively sell senior-targeted insurance products.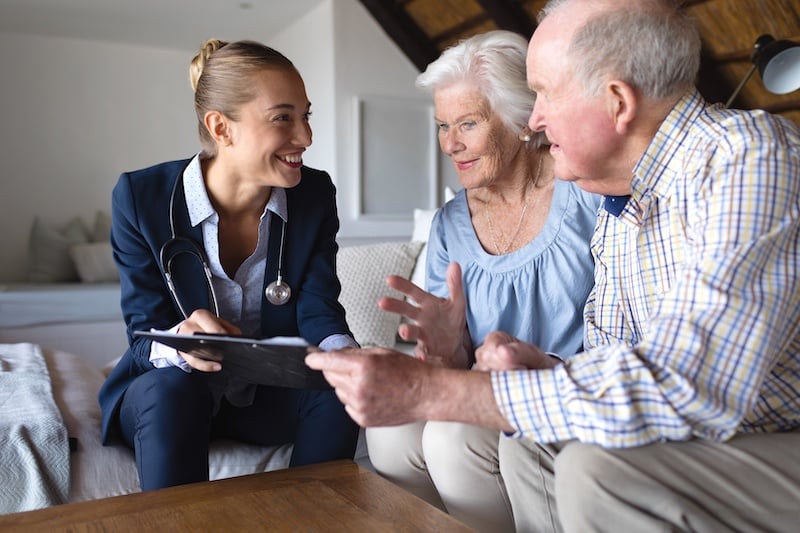 Expanding insurance product knowledge
The number of Medicare beneficiaries enrolled in Medicare Advantage (Part C) has consistently risen year over year for the past decade. Since the Affordable Care Act was passed in 2010, enrollment in Medicare Advantage has seen 71% growth. Within the past year (2022), enrollment has grown almost 9%. As of January 2022, approximately 45% of all Medicare beneficiaries is enrolled in a Medicare Advantage plan, and the numbers are expected to grow.
What does that mean for agencies? There has never been a more important time to train your agents to be experts on Medicare products. Your competitors recognize these opportunities, so it's critical to provide the best sales presentation possible to all applicable prospects and leads.
Training your Medicare insurance agents to educate their audience is critical to providing better customer experiences. Agents should anticipate questions and feel confident speaking to all aspects of Medicare coverage. Prospective beneficiaries need to know the distinctions across different plans, such as conflict between concurrent policies (cannot use Medigap policy and Medicare Advantage simultaneously), timeframes to change policies (e.g., 12-month period to return to a Medicare Supplement policy from time of joining Medicare Advantage Plan), and what specific plans cover (copayments, coinsurance, deductibles, etc.).
Adhering to regulations
Nothing will hurt your Medicare business like incurring hefty fines for failing to comply with industry regulations. Emphasizing continued education is critical to keeping your agents up-to-date on changing rules around selling Medicare products. Depending on the state of licensing, agents must stay current with Insurance Continuing Education requirements. Other possible required courses include ethics training and America's Health Insurance Plans (AHIP) membership to stay in compliance with Medicare Advantage rules. These training programs are all in addition to maintaining a state insurance license.
Along with licensing and certification deadlines, remind your agents of rules and regulations surrounding sales conversations with prospects:
It is illegal to sell an individual a Medigap policy if the person is already enrolled in Medicare Advantage unless the person is switching back to Original Medicare (Part A and/or Part B)
It is illegal to sell an individual a Medigap policy if the person already has a Medicare Medical Savings Account (MSA) Plan
It is illegal to sell an individual a Medicare Prescription Drug Plan (Part D) if their current Medigap policy includes drug coverage
During AEP specifically, make sure your agents are complying with the following practices for Medicare Advantage sales:
Agents must have consent to contact or a business reply card to market to prospects
Agents must use Scope of Appointment (SOA) forms as evidence of products discussed
Agents must use approved sales scripts to ensure all disclosures required by the Centers for Medicare & Medicaid Services (CMS) are stated
Using integrated quoting
As you train your agents to become more knowledgeable resources on Medicare products, make sure your agents have the tools to quote Medicare products accurately and quickly. In order to provide the best sales experience, agents need access to a reliable quoting tool to help their prospects make informed decisions. Using a lead management system with integrated quoting allows agents to pull all the information they need from one platform with increased accuracy, providing more seamless customer service to guide purchase decisions.
As you grow your team's skills and knowledge, make sure your tools can grow with your agency and manage your relationships and policies in one place. Consider these factors when choosing your agency's CRM.