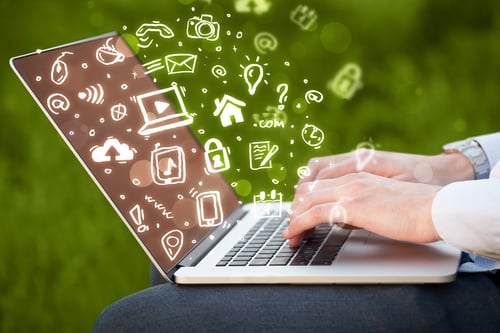 There's a lot to be said for having a direct line into someone's inbox, and with some time and consistent effort, it's a marketing technique that can really pay off. By some estimates this digital marketing strategy earns $40 for every $1 spent – that represents a rather stunning ROI of 4,000 percent.
If you are new to this strategy, you must be wondering how it can yield such high returns on investment, and at the end of the day, It's really very simple. People only read those emails that provide them with value. The average person receives more than 121 emails per day – that's a lot of emails to wade through. So if you want your insurance prospecting emails to be read by the people you're sending them to, make sure they stand out.
Here are some tips and best practices to help make sure they do.
Use the Best Email Marketing Tools
A customer relationship management solution with a strong email automation platform will help if you want to launch and grow email marketing campaigns at scale. Automation tools will help expedite the entire process of sending emails, and also provide you with metrics regarding who opened them and who didn't.
Additionally, the right insurance CRM solution will also include features like autoresponders, allowing you to set up workflows that send emails automatically when certain triggers are hit, such as birthdays or policy renewals.
Personalize Your Emails
The problem with sending a large email campaign is the tendency to look and sound generic, and this has the impact of making your campaign lack a personal touch. In the age of mobile devices and social networks, consumers expect and appreciate personalized experiences from the companies asking for their business.
With regard to insurance prospecting emails, you should look to create a personal connection with every client. This can be as simple as including their first name in the salutation and leveraging personalized subject lines.
On the whole, personalized emails tend to have a higher transactional rate, return on investment, and revenue-generation potential.
Segment Your Customer List
Customer segmentation is a marketing strategy that involves dividing your customers into groups. Before you can start sending personalized emails to your insurance clients, you should consider segmenting your lists.
The following are some categories you can use when segmenting your insurance customers:
Clients aging into Medicare
Prospects looking for dental insurance
Prospects looking for family and individual health insurance plans
Clients who have a policy renewal coming up
Craft Short, Catchy Subject Lines
Thirty-five percent of all email recipients use subject lines to decide whether they will open a message or not. You must pay close attention to the subject lines you use. The best subject lines are those that are brief. They should also bring out curiosity and urgency.
Conduct an A/B Test on Your Emails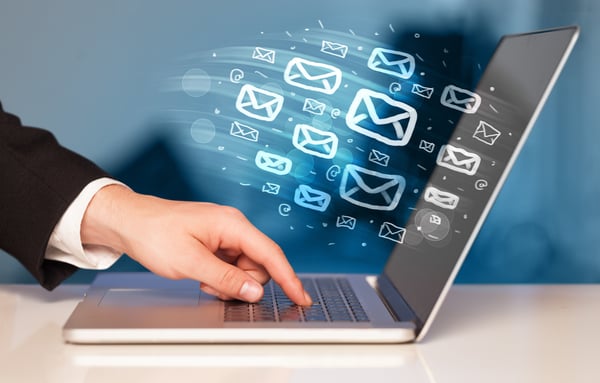 A/B testing is a process of comparing two things to determine the better solution. This is used in online marketing to determine whether one headline, email body, or call-to-action is better than another. With A/B testing, you can identify what works and what doesn't so that you can improve your email marketing campaigns over time.
Optimize Your Messages
You've probably heard of KISS (Keep It Simple, Silly). right? In email marketing KISS has a different meaning: Keep It Short & Simple. A 3-paragraph, concisely written email enhances the readability of your emails and makes the most of the recipient's time.
For winning emails, avoid bulky blocks of text and use simple, easily understood language.
Include Calls to Action
Calls to action are a marketing campaign tactic that will help you get customers or clients to do something. This might include subscribing to your list, downloading an insurance resource, or registering for a suitable insurance plan. Calls to action are always very effective in boosting the ROI on your email marketing campaigns – and they also help you keep a bead on who is engaged and who isn't.
Optimize Your Emails for Mobile Devices
The number of people owning mobile devices is growing every day, all around the world. Also growing is the number of ways people use those devices. For these reasons, it's essential to have your insurance email marketing campaign optimized for mobile devices.
Mobile-friendly emails are designed to be seen and read on small screens. That means, again, avoiding chunky blocks of text, being mindful of the overall look and feel, and subject lines that are 7 words or less.
Remember the Preheader
Preheaders are the text that appears after your email's subject line in your subscribers' inbox. This is another place you can use to personalize your emails and increase engagement. Preheaders also allow you to introduce yourself and how you can help your prospects.
Insurance email marketing can be a powerful tool; you only need the right email marketing campaign strategy to turn it into a successful venture. Make sure that you are creating a human connection with your prospects and clients by being honest and friendly in your approach. You should also be very clear and straightforward with the message you are trying to deliver.
Don't Overwhelm Your Audience
While it may seem exciting to see your campaigns picking up speed after the first couple of emails, it could easily backfire if you launch too many messages too often. Ideally, you should only send one email each week or so to your lists. Otherwise subscribers can find some time to digest the information you shared with them. Also, sending too many emails in a short period can also cause you to get hit with many unsubscribes or even get marked as spam.
Email marketing remains a top-winning tool, not least of all because there's virtually no additional expense required to knock a hot campaign out of the park — no stamps to buy, no postcards to purchase, etc.
Emails sent via an agency management system that includes automation tools, such as AgentCubed, also offers you the ability to track your results in real time, as well as monitor the data for similar campaigns over time. That information can tell you whether or not your insurance marketing messages are hitting the mark or if they need a tweak or two going forward.