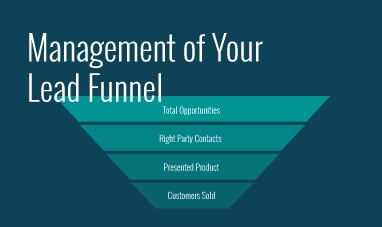 For any business to grow more efficient, leadership needs to analyze workflow processes to locate bottlenecks and areas for improvement. For an insurance carrier or agency, your agents are likely pulled in multiple directions and switching between tools, balancing lead management, quoting, enrollment, and customer retention. Managing your lead funnel efficiently and effectively is crucial to achieving sales goals and developing sustainable business practices. Here is how AgentCubed can help manage your funnel.
Step One: Opportunity
Marketing campaigns drive opportunities for your agents. Companies do themselves a disservice when they don't effectively track sales conversions to their marketing campaigns, otherwise known as lead attribution. Without tracking conversions, your agency loses visibility into campaign effectiveness and lead quality. Best practice is to record each touchpoint that a lead experiences to paint a more complete picture of the interactions between the lead and your agency.
When these analytics are tracked within your sales management system, decision makers can access lead source data to analyze the lead lifecycle. Managers can track sales back to their origin and point of conversion, guiding future decisions on marketing and communication strategies. Identifying attributes that produce successful marketing campaigns is fundamental to producing a quality sales pipeline.
Step Two: Right party contact
Once a lead has expressed interest by way of inbound call, online, or business reply card, the lead should be routed to the appropriate sales channel. Should the lead be handled immediately by the call center? Should the lead be distributed to a field agent? By considering the marketing source and geographic area, you can direct the lead to the right sales channel to increase chances of enrollment.
The likelihood of a sale is highly based on your lead distribution model. Best practice is to automate distribution by setting rules within your sales management system to direct leads to the right sales channel at the right time. Automating lead distribution gives you the freedom to set your own business rules to send leads to the field or cycle leads through your call center based on specific criteria. AgentCubed offers automated, skill-based lead distribution and a real-time reporting dashboard for visibility into each stage of the lead funnel.
Step Three: Present product and enroll
To achieve a more seamless sales experience for both the agent and lead, an agency should consider investing in a technology that offers built-in quoting and enrollment. This provides a smooth transition into discussing the beneficiary's options and eliminates duplicate efforts to capture name, date of birth, and zip code. Integrated quoting also lets agents refer back to a previously saved quote the next time they meet with that beneficiary versus starting the conversation over. If the beneficiary is ready to enroll, investing in a technology that integrates with carriers and the federal exchange is invaluable to improving average sales time. Submitted policies are automatically posted back into the sales management system for real-time tracking of application status and ongoing agency management.
Step Four: Retain the customer
Closing the sale is more than gaining a new customer; it's the start of an ongoing sales relationship. Effective client retention means consistent, timely communication. Using a solution that offers retention and renewal workflows prevents client communication opportunities from falling off the radar. When your leads and policies are managed in the same system, retention efforts become a part of everyday sales efforts. When these important touchpoints are captured and capitalized, client retention increases, improving your agency's bottom line.
Are you ready to see how AgentCubed can help you achieve all four of these steps? Schedule a demo to learn how we increase your sales.