In an ideal world, every lead your sales team calls on would be highly qualified. Unfortunately, not everyone is the perfect customer for your P&C insurance agency.
At many agencies, marketers end up sending bad leads to sales, which ultimately conditions the sales teams to ignore these leads because they don't want to waste their time. In fact, one study found that the average sales representative ignores half of the leads marketing colleagues send their way.
Building a more efficient P&C insurance sales team starts with them and call center agents qualify leads. By doing so, you can increase the chances that they spend the majority of their time selling to the most qualified candidates.
With that in mind, let's take a look at four tactics you can employ to help your P&C sales team successfully qualify leads.
4 Tips for Better Lead Qualification at Your Agency
1. Follow a Process
First things first: You can improve lead qualification at your agency by giving your sales teams the templates, tools, and training needed to succeed at your company.
For example, by designing and implementing clear sales processes, it becomes easier for your team to determine where leads are in the typical customer journey. With that information on hand, they can decide whether or not it's worthwhile to continue to engage with the prospect and, if so, what that engagement should look like.
Similarly, providing your sales team with a cold-calling script they can follow when they reach out to prospects can help simplify the process. With a great script in place, your agents will be able to decide whether a prospect is worth the effort earlier on in the process.
2. Create Ideal Customer Personas and Target Them Specifically
No two customers are exactly the same. That being said, many of your customers do share many similar pain points.
For example, your older clientele will often have more property to insure than your younger clients. Generally, young people, middle-aged individuals, and seniors will all have different insurance needs. As you analyze your organization's internal data, you might find differences in how men and women respond to your products, too.
The bottom line? Study your agency's data and put together customer personas. From there, you can figure out which types of insurance products fit each persona the best.
This will help agents qualify leads faster and more effectively because they will be able to tell which persona the prospect fits, offer them the associated products, and quickly determine whether the lead is worth their time.
3. Help Your Team Identify Unqualified Leads Immediately
In the world of P&C insurance sales, time is of the essence. In order for your sales team to get the best results possible, they need to be able to swiftly determine whether each prospect is in the market for insurance.
As you begin constructing your cold-calling script, be sure to include quick questions at the top that agents can ask to rapidly determine whether the lead is qualified. For instance, you might have them ask:
What coverage are you looking for?
Are you the decision maker?
Are you planning on buying insurance soon?
The earlier agents ask these questions, the sooner they will be able to qualify or disqualify a lead.
4. Know What a Qualified Lead Looks Like
In addition, agents need to be aware of what a qualified lead looks like. That way, they will be able to rapidly identify whether the person they're speaking to is one or not.
Qualified leads are aware of their insurance needs. They're also the decision maker; the responsibility lies with them. Furthermore, qualified leads have urgent needs, and they can't afford to wait weeks or months to make a decision.
Beyond that, qualified leads have a willingness to listen to what you have to offer. They're looking for a solution to their problems, after all.
Last but not least, qualified leads are trusting. They believe in what you're selling because they need to make a decision quickly.
Take Your P&C Insurance Sales to the Next Level by Qualifying Leads Faster!
Building an efficient sales team at your insurance agency starts with successfully qualifying leads as early as you can. This makes it easier for you to focus your sales team's efforts on the right people and, in turn, grow your agency based on that success.
To do that, you need the right strategy and the right tools.
With strategies, tools, and a library of resources, AgentCubed can help.
Subscribe to our blog to get more helpful tips, tricks, and ideas you can implement at your P&C insurance agency today. While you're at it, request a demo of AgentCubed today to learn more about how technology can help your sales team and call center agents qualify leads more effectively.
---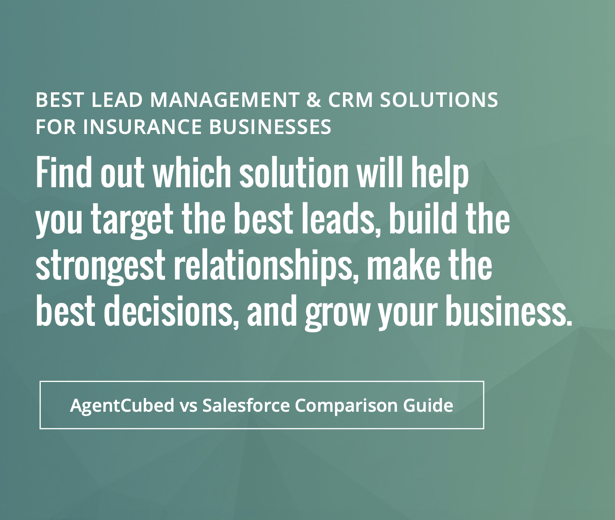 ---