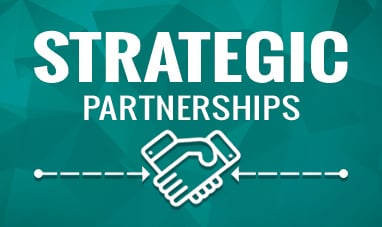 Developing strategic partnerships is one of the most cost-effective ways to grow your insurance business. By establishing an active, well-rounded network, you create an extension of your sales team without the costs of hiring. In the following discussion, we've outlined how strategic partnerships raise brand awareness, share insurance industry knowledge, and drive business growth.
What are strategic partnerships?
Strategic partnerships are typically industry colleagues who refer their clients to another colleague's business, creating mutually beneficial relationships. When you see needs that another partner could serve, you refer your clients to their business, and vice versa. Strong strategic networks link businesses that provide different products or services that work together to serve similar business needs. Rather than competing over the same business, strategic partnerships cultivate relationships across businesses with different offerings to provide clients a vetted network of references for future solutions.
For example, AgentCubed offers a 3-in-1 lead distribution, an insurance specific CRM, and policy management system. We cultivate relationships with insurance businesses who can serve other needs of our customers. We pursue partnerships with lead vendors, insurance quoting platforms, telephony products, and other technology solutions to identify helpful contacts for our clients while continuing to improve our own solution. These partnerships help us become more knowledgeable on insurance industry trends and innovations, allowing us to offer better customer service to our clients.
How do partnerships grow your business?
Strategic partnerships are a two-way street, and they must benefit both parties equally. Developing a wise partnership can mean access to a new customer base. Strategic partnerships pool the sales efforts of a network of businesses. Think of a strategic partner as another arm of your sales team. By creating partnerships within complementary businesses, you essentially develop brand ambassadors to promote your company when their client needs what you offer. These partnerships give your business outside referrals, leveraging other companies' reach and reputations. Those referrals and sales leads end up coming inbound without the added overhead of expanding your internal sales team.
Most companies who utilize strategic partners are also looking for additional ways to generate revenue outside of their core product or service offering. This usually takes the form of someone in a business development role. For example, AgentCubed sells insurance software as a service. The user fees we receive from that exchange is our main source of revenue. However, we take a consultative approach with our clients that allows us to provide much more value than just technology. We establish affiliate agreements, creating economic wins for the company. We can refer clients to health plans looking for additional distribution, lead vendors and telephony platforms looking for additional clients, and even other insurance agencies who hold insurance carrier contracts that our clients find valuable.
What other benefits do strategic partners offer?
As an insurance agency, you know how long it takes to get your insurance sales team up to speed on product information and the climate in which they're selling. At the end of the day, you can't know it all as one business in an industry of moving parts. You can educate and train your team on best practices, but you need other companies and colleagues to keep you updated.
As an extension of your brand, strategic partners can be your eyes into other areas of the insurance industry. To increase your value to clients, you need to know where the industry is going. In an industry like insurance, legislation can quickly change, and your sales team needs to stay updated on any changes in what they're selling. Even if your team can't be at every industry event, your strategic partners can extend your brand's presence at conferences and trade shows, sharing that gained knowledge within your network. Developing relationships with key players in technology and related channels can grow your perspective and awareness of where the industry is headed.
Shared knowledge can be a huge savings to your company. Does one of your colleagues have a better process for something you're dealing with internally? Sharing wins can help your whole network work smarter. Rather than reinvent the wheel, consider how companies with complementary skillsets can offer your company their proven expertise. This saves you time and resources that would be spent doing independent research on ideas or processes that a partner has already mastered.
How do you find the right partners?
Strategic partnerships are all about gaining exposure and protecting brand reputation. Finding the right partners is key to elevating your brand. When you refer a business, you are associating your brand with that company's values and service. If your referral under-delivers, your reputation is on the line. When targeting certain organizations or influencers, be intentional about finding businesses that align with your beliefs.
Anyone who has spent years in the insurance industry knows how connected and close-knit the industry is. As you meet peers, you realize why this industry gives the sense that "everyone knows everyone." In an area that's so well-connected, people find out when someone gets burned. To mitigate risk of associating your brand with damaging partners, consider the following vetting process:
Ask the prospective partner lots of questions. Don't feel bad coming in with a thorough list of questions about their experience and their product or service. If it's a technology platform where your product might integrate, ask to see their platform to explore its usage and functionality. Essentially, avoid just taking their word for it.
Interview agencies who have purchased from them. Before you refer another company's way of doing business, ask current and former agencies about their past experience with that brand. Your word could reflect poorly if the company you refer provides an unsatisfactory customer experience.
Get a pulse on their industry reputation. Watch for inconsistencies across what the prospect says versus what the industry says. Always keep your eyes open for signs of burned bridges.
As simple as it sounds, be nice to everyone and do the right thing. Treat other industry players in a way that encourages them to recommend your brand. Avoid linking your brand name to someone else's poor reputation. Take the time to pursue the right partners to help you grow your business.